Best Insurance for Hair Salons
As a hair salon owner, you know that your business comes with a certain amount of risk. From hairstylists working with sharp instruments to the possibility of clients slipping and falling, there are many potential hazards in your salon. Insurance for hair salons can protect your business and your financial future from a variety of risks, including property damage, theft, and even liability in the event that a client is injured while on your premises. There are a number of different types of hair salon insurance policies available, so it's important to work with an experienced agent to find the coverage that's right for your business. With the top hair salon insurance in place from the Business Insurance Center, you can rest assured knowing that your cherished business is protected against a variety of risks.
What Insurance Does a Hair Salon Need?
Every business needs insurance, and hair salons are no different. There are a variety of insurance policies that a hair salon should consider, from property insurance to liability insurance, and everything in between that all work in tandem to protect your hair salon.
General Liability insurance for hair salons: This protects you against third-party claims for bodily injury on your premises, property damage, and reputational harm.
Hair salon Commercial Property insurance: Will protect the salon's building and contents in the event of damage or theft, including equipment and inventory.
Worker's Compensation for hairstylists: Many states require hair salons to carry workers' compensation insurance, which will provide coverage for employees' medical bills and lost wages after a work-related illness or injury.
Equipment Breakdown insurance for hair salons: Replacement or repayment costs for damage to business-owned equipment that may be caused by internal malfunctions.
Business Interruption hair salon insurance: This is optional insurance th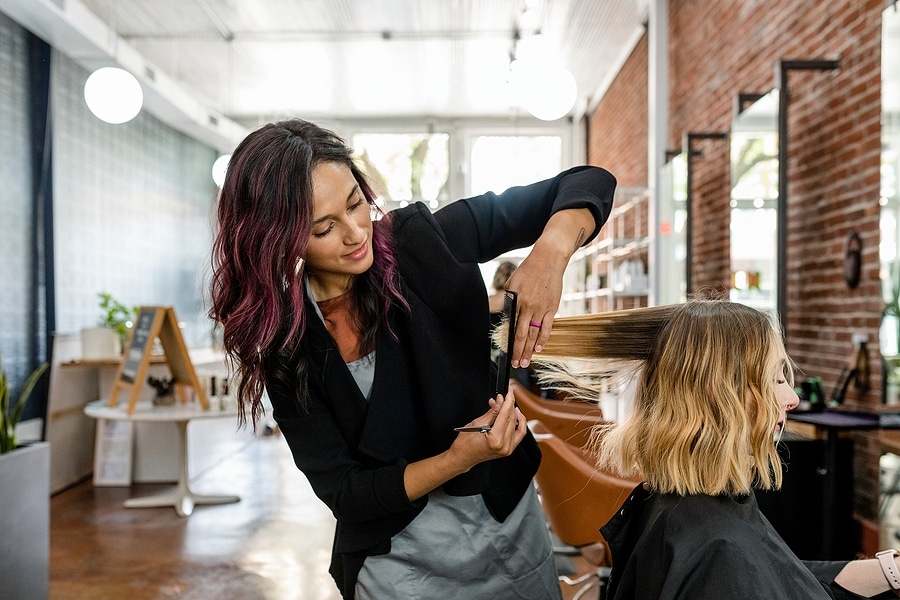 at helps replace lost income if you have to close your salon business for a period of time due to covered events such as a pandemic, fire, etc.
These are just a few of the insurance policies you may want to consider purchasing as a hair salon owner. By investing in the right insurance policies, a hair salon can protect itself and its employees from financial ruin in the event of an accident or disaster.
Hair Salon Insurance FAQs
Business Insurance Center is here to answer some of the most commonly asked questions about hair salon insurance.
How much does insurance cost for hair salons?
Many factors play into the price of hair salon insurance but many of the top hair salon insurance companies will consider your location (which will determine what kind of coverage is legally required), your revenue (higher revenue often means there's more to insure, so your hair salon insurance premium may be higher), number of employees, and what services you offer (for example, hair salons that offer tanning or nail services will often require a higher insurance policy).
Do booth renters or hairstylists renting a chair need insurance?
The most common answer is yes. Anyone who is operating in your space will need to be covered by insurance. Some salon owners require each chair or booth renter to have their own insurance, while others pay for insurance for the entire salon, including renters.
How do I find cheap insurance for a hair salon?
The best method is to call around and compare quotes. Just be sure that you are comparing the policies that have the same types of insurance included and that you have enough coverage for your full protection.
Where can I get insurance for my hair salon?
Business Insurance Center is known for offering affordable hair salon insurance across the United States. Our experienced agents can talk you through what insurance policies may best protect your hair salon and can offer a customized hair salon insurance policy that's created just for you. Click for a free hair salon insurance quote or give us a call for a free quote today!