Keep Your Business Growing with Landscape Contractor Insurance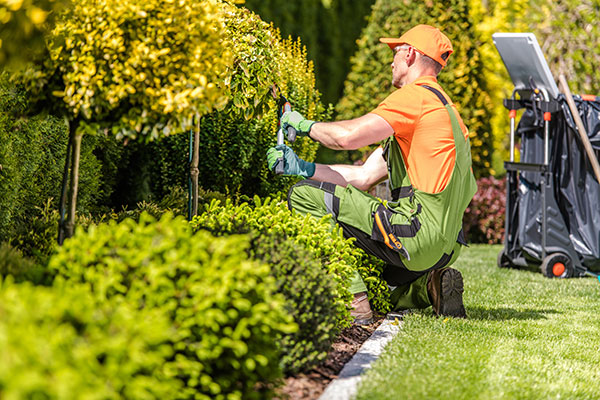 Curb appeal is your forte. You spend hours in the sun each year tending to plants, trees, and bushes. Whether for homeowners, apartment communities, or commercial properties, you know your way around with a spade, a shovel, and a lawnmower. As a responsible business owner, you also understand that protecting your company and your employees is just as important as pruning shrubs and mowing lawns. Landscape contractor insurance is just what you need to keep your tree trimmer sharp, and your customer's happy.
At the Business Insurance Center, our network of experienced brokers understands the importance of protecting your business and employees. We work with contractors across the country and know the inherent risks and liabilities that landscapers and arborists face. We work with you to get the best coverage for your needs at a price you can afford.
Businesses that Benefit from Landscape Contractor Insurance
It might be easy to discount your need for landscaper insurance because you deal with snow removal rather than lawn care. The reality is that many outdoor contractors are not adequately protected from claims and lawsuits. If your enterprise falls into one or more of these categories, it is time to consider additional protection:
Landscapers
Tree trimmers
Arborists
Landscape architects
Landscape designers
Snow removal services
Types of Landscape Contractor Coverages
Few people, if any, might think that working with plants can potentially be hazardous. It is easy to overlook the equipment involved in making the outdoors look pristine. Your tailored policies may include these types of coverage:
General Liability: Just about every business benefits from setting a foundation on general liability. This may protect you against the risks and liability claims for property damage and personal injury caused by you or an employee.
Commercial Auto: This covers the use of your company vehicles to conduct business whether working at a customer's site or picking up supplies. If you use your personal car, your auto policy may have limitations on business use.
Worker's Compensation: Mandatory in most states, this will help employees if they get injured on the job or become ill. It also gives you the peace of mind that you may avoid being sued by your crew.
Business Property: No matter whether you own or lease the place where you operate your business, you need additional assurance that if a fire or other disaster strikes, you are covered. This can also get you back up and running if your business equipment such as computers or office equipment is damaged or destroyed.
Business Income: If a covered event occurs and you cannot run your business, this policy may help meet your fixed expenses until you are up and operating again.
Entrust Your Landscape Business Insurance Decision to a Trusted Broker
Avoid losing your customers and your business because you do not have the protection you need. Talk with a knowledgeable broker to get the best coverage and rates. At the Business Insurance Center, we help businesses of all sizes and industries. Our countrywide network of brokers is happy to assess your needs and create a tailored package for you. Experience quick response times and outstanding customer service when you reach out to us today.
Request a quote or call a location near you to speak with a knowledgeable and experienced broker at the Business Insurance Center. We have a 24/7 call center to serve you.