Keep the Hearth Going While Protecting Your Business with Restaurant Insurance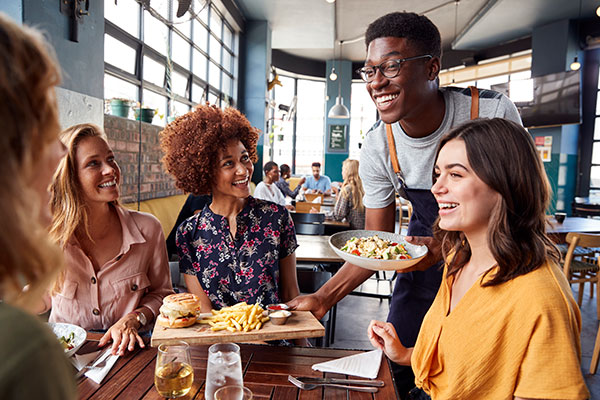 Nothing beats the smells wafting from a well-run kitchen – a pinch of rosemary here, some oregano there. As the herbs and spices blend in your grandmother's secret pasta sauce simmering on the back burner, the sounds of knives chopping vegetables keep time with your sous chef's humming. Each meal is made with a passion only matched by your customer's desire to taste your hearty creations. However, owning and running a restaurant takes more than being able to cook well. It needs the right protection.
Your patrons depend on you to satisfy their appetite. Having the coverages you need, helps you fulfill that obligation. At Business Insurance Center, our dedicated staff understands that the needs of the restaurant industry are unique. When providing a restaurant insurance quote, we offer tailored options to keep your business safe from those mishaps that can keep you out of the kitchen.
Types of Restaurant Insurance Coverage
Whether you own a family restaurant or a food truck, you leave your business in a precarious position if a devastating fire occurs or a customer slips and falls on your premises. Some establishment owners stop with general liability insurance when they would be better served with additional protection. Here are additional types of coverage available for you to consider:
General Liability: The most common protection for times when your employees, products, or services cause harm to other people or their property.
Commercial Property: This coverage protects your buildings and its contents in the case of a fire, water damage from a busted pipe, or other covered events.
Liquor Liability: If you carry a liquor license, this type of protection can help cover damage caused by individuals under the influence of alcohol at your restaurant.
Workers' Compensation: Depending on your state, you will need some form of workers' compensation insurance to protect you and your employees.
Automobile Liability: This is used to protect the company cars for those restaurants that have a delivery service.
Business Interruption: If you lose sales for a situation out of your control, this will provide income recovery so you can keep your doors open.
Food Contamination: When a power outage happens, you can lose your perishable foods. Replace ingredients easily with this type of coverage.
Who Benefits from Restaurant Business Insurance?
Many business owners in the food industry may not realize they are perfect candidates for restaurant insurance protection. Here are some examples of those businesses that can benefit from getting specific coverage:
Bars
Cafes
Cafeterias
Caterers
Diners
Delis
Fast Food
Food Trucks
Family, casual, and fine dining
Get Individualized Attention from a Trusted Insurance Brokerage
Your dishes are as individual as your customers. Keep their coffee cups full and their stomachs happy when you talk with an experienced broker. We discuss your needs, assess your existing protection, and suggest the best coverage for your restaurant at a price that will not break the tip jar. Enjoy quick response times and exceptional customer service when you contact our countrywide network of brokers today.
Request a quote for restaurant business insurance or call and speak with a knowledgeable and experienced broker at the Business Insurance Center for a restaurant insurance quote. We have a 24/7 call center to serve you and an online Live Chat operator.