Mold Remediation Contractor Insurance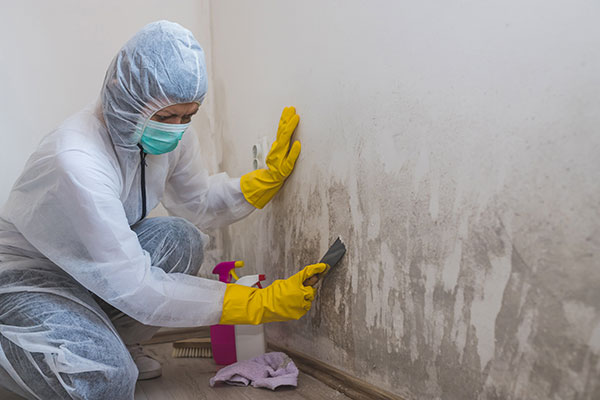 Mold in homes and office buildings can produce allergens and irritants and people who are sensitive to the spores can become very ill. Most often, the build-up of mold occurs from water damage resulting from a leaky pipe, poor ventilation, or flooding. While removing all mold spores is impossible, as a remediation professional, you work hard to give your customers their homes and office spaces back as clean as possible.
Continue providing a valuable service and protect your business as a mold remediation contractor when you talk with the team at The Business Insurance Center. Our network of brokers seeks out the best options for you to ensure your company has the right type and amount of coverage at reasonable rates. We understand your unique needs and work with you to help you safeguard your enterprise.
Common Areas of Service in Remediation and Restoration
Mold remediation is often required because of water damage from flooding or fires so, you may not just serve in the area of combating invading spores. Instead, you may best serve your clients in three main areas of remediation and restoration:
Mold Remediation: The process is vital to assess the damage and determine the best course of action to rid your customer's building of mold. You have specialized training and equipment to ensure you get every crevice cleaned and contained. This area of service includes air filtration, removing mold and mold-infested materials, and cleaning contents and belongings.
Fire Restoration: When the emergency crews show up on the scene of a fire, the last thing on their mind is wondering what kind of mold may emerge after they put out the flames. Not only do you assist your customer in cleaning their belongings and removing the smell of smoke from their possessions, you also are the first line of defense against mold.
Water Damage Restoration: Storms and floods are disasters waiting for the chance to throw your customer another punch with mold build-up. Sewage back-ups, leaking appliances, and overflowing tubs run a close second. Your customers rely on you to stop potential mold spores from growing and giving them their homes back.
Types of Insurance Policies to Consider as a Mold Remediation Contractor
Every business can benefit from the protection found in insurance. Mold remediation is no different. Here are some basic policy types to consider and discuss with your Business Insurance Center Broker:
General Liability: Get the protection you need against claims of damage or injury from third-parties.
Worker's Compensation: Reassure your employees that if they get injured or become ill on the job, they are taken care of.
Commercial Property: Whether you rent or own your place of business, you need coverage that can step in if you experience fire, theft, vandalism, or other covered events.
Commercial Auto Insurance: Your job requires driving to job sites. Regular automobile insurance might not cover what a commercial auto policy can.
Fight Claims Like Mold – with the Right Coverage from The Business Insurance Center
Continue to be the superhero in your customers' eyes by helping them gain access to a cleaner, mold-free room or office building. The Business Insurance Center supports your vision as a mold remediation contractor with the best types of insurance plans. Our 30 years of service to our communities is a testimony to our desire to be the go-to place for your insurance needs. Contact us today.
Request a quote online or call and speak with a knowledgeable and experienced broker at The Business Insurance Center about obtaining mold remediation contractor's insurance. We have a 24/7 call center to serve you and an online Live Chat operator.