Protect a Vital Part of the Community with Grocery Store Insurance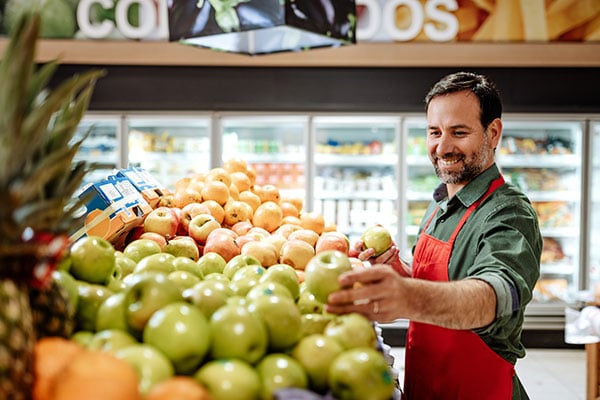 Grocery stores serve the community with food and general staples. Weekends are generally jam-packed with customers filling their carts to the brim with produce, meat, canned goods, and frozen foods. Holidays can be even more hectic as shoppers buy unique items for their parties and family gatherings. Each year, your store will see thousands of packages of chicken, turkey, steak, and hot dogs pass through the checkout line and when severe weather strikes, shelves quickly become barren as people stock up on milk and bread. Whether it's a chain or an independent store, you provide a vital service to the area in which you are located.
Do you have the correct grocery insurance program? If your freezers break or the produce spoils, do you have what it takes to replace the stock, or will your bottom line take a hard hit? The knowledgeable brokers at Business Insurance Center understand what is needed for your unique line of business. From liability to customized policies, we work with you to ensure you have the right plans for your needs.
General Coverages of Insurance for Your Grocery Store
Stores need the extra support of solid insurance coverage. Here are the typical coverages included in a good grocery insurance program:
Property: Protection for your building, its contents, and equipment from an accidental physical loss.
Liability: This can be of help in the event of a claim or lawsuit as covered. It can be broken into a couple of categories as well.

Premises – May cover in the event someone is injured while on store property.
Product – May assist if a customer becomes ill because of the foods or beverages they bought.
Advertising – Might cover possible copyright or trademark infringements.

Loss of Income: Helps in times of business loss because operations are suspended from direct physical damage covered by the policy.
Spoilage: Potential coverage in the event perishable goods are ruined by mechanical breakdown, a power outage, or another covered event.
Equipment Breakdown: Can help when your freezers or other equipment breaks down.
Employee Dishonesty: May be utilized if an employee causes direct physical loss of business property.
Auto Liability: If you have a company car, this policy may apply if an accident happens in the course of business such as making deliveries.
Druggist Liability: Protection that may be needed if you offer pharmacy services.
Liquor Liability: This coverage may be required if you sell alcoholic beverages on your premises.
Get Protection from a Trusted Brokerage
Avoid being left vulnerable when something goes wrong. The experienced brokers at Business Insurance Center will sit down and discuss your specific needs with you and customize a set of policies that meet your requirements. We can explain specific coverages such as worker's compensation to take care of your employees if they are injured while on the job. Contact us today and experience the difference working with our team makes.
Request a quote for grocery store insurance or call and speak with a knowledgeable and experienced broker at Business Insurance Center. We have a 24/7 call center to serve you and an online Live Chat.