Manufacturing Insurance Keeps Your Business, Employees, and Customers Safe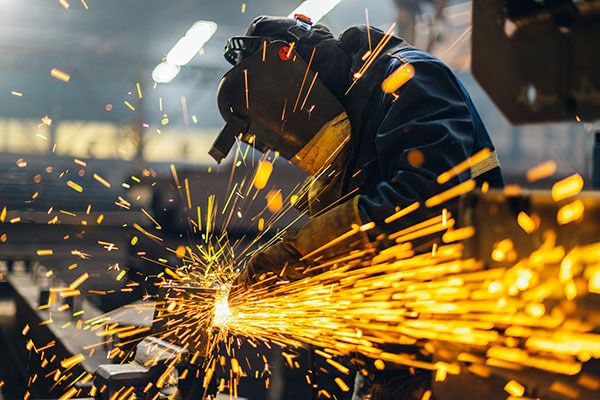 Manufacturing keeps the economy moving. Across the country, manufacturers forge, cast, inject, and engrave using a host of tools like band saws, drill presses, kilns, and other mechanical instruments. It takes expert experience to use these tools safely and keep the operations moving forward. Whether working in a small plant or a more extensive process, having the best insurance available keeps you prepared for the unexpected.
Reducing the level of risk in your operations starts with having the right manufacturing insurance program in place. Work with an experienced broker at the Business Insurance Center to understand the manufacturing programs that are available. We understand the needs of different industries and can help your company get the protection you require.
Types of Manufacturing Insurance Programs
All businesses come with inherent risks. Manufacturers have additional risks that a regular policy may not cover. Here are the coverage types to consider for your company:
General Liability: helps protect businesses from lawsuits that involve injuries or property damage that happen in the course of regular operations. For instance, if a customer is injured by one of your machines this policy may potentially kick in.
Commercial Property: gives you additional protection for the property your company owns, such as the buildings and tools. This may include any equipment you own and what you lease.
Worker's Compensation: could help protect your employees with medical costs and cover a portion of their lost wages if they become ill or injured while on the job.
Business Income: ensures you can keep the lights on in the event your covered property is damaged, and you cannot run your plant.
Product Recall Insurance: may help if you have to issue a recall on any of your manufactured goods.
Manufacturers' Vehicle Coverage: to ensure the vehicles you own are well protected as you haul your wares to your customers.
Who Can Use Manufacturer's Insurance
Many different lines of manufacturing can benefit from general and specialized policies. Each niche has its unique set of challenges, so talking with an experienced broker is the first step in obtaining the exact coverage for your circumstances. Here is a short list of manufacturing specialties:
Food and beverage
Metals
Plastics
Printing and publishing
Apparel
Cabinetmaking
Canning
Carpet
Clothing
Computer
Die making
Candy making
Electronics
Fabricating
Mobile Homes
Meat Packing
Greeting cards
Magazines
Tobacco
Toolmaking
Get the Coverage You Need with the Assistance of Trusted Advisor
Ensure your customers receive your goods when you obtain the best policies for your enterprise. A robust manufacturing plant keeps your employees in jobs and the economy growing. Keep your cost lower when you work with a network of brokers that understand what you need. The professionals at the Business Insurance Center listen to you, assess your risks, and customize a package that keeps your manufacturing operation humming. We will get you the best protection at rates you can afford. Call us today and enjoy exceptional customer service and quick response times.
Request a quote or speak with a knowledgeable and experienced insurance broker. We have a 24/7 call center to serve you.