Running a business is hard. Running a successful business in today's market can be even harder! An incomplete plan in one area of your company could cost you everything. That's why it is so important to make sure that every aspect of your company is safe from harm, including your fleet employees and vehicles. Fleet safety isn't always something that small businesses think about when they start up, but as time goes by and the company grows, there are more moving parts to keep track of and more people involved in day-to-day operations. One of the most important "moving parts" is a solid safety plan for a commercial fleet. Here, insurance experts from Business Insurance Center share some fleet safety program tips designed to keep all aspects of your fleet safe and sound!
Fleet Driver Safety Program
One reason that fleet safety is so imperative is that traffic-related motor vehicle accidents are the leading cause of work-related fatalities. We know how much you value your employees' safety and when you put into place a fleet safety program, you're working to reduce unnecessary injuries and situations that may lead to even worse consequences. The best fleet safety principles start with hiring and encompass every step of the way after that.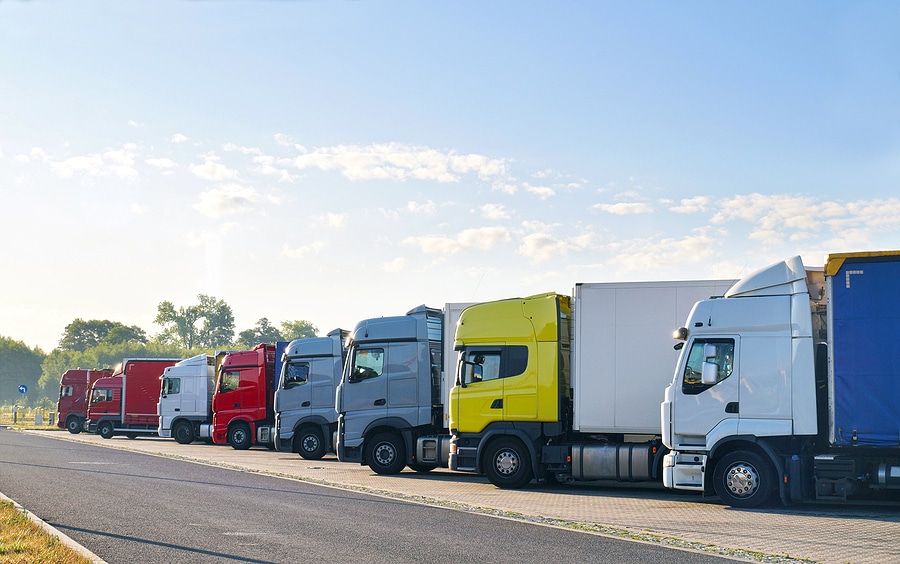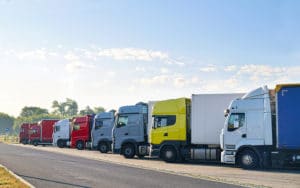 Best Practices for Hiring Fleet Drivers
It's vital to get the right employees for your trucking company, delivery service, or any business that requires a vehicle fleet. Screening and selection of fleet drivers is key! Recruitment procedures for commercial fleet drivers should require a prospective employee to list past driving experience, employers, and types of vehicles driven; list references; and notify you of any motor vehicle violations. Of course, you'll want to conduct a formal interview, background check, review their motor vehicle record (MVR) and conduct drug and alcohol screening. Only qualified candidates who clear all of these requirements should be considered.
Fleet Driver Safety Training
Another important component to increasing safety of commercial fleets is to mandate a driver safety program for employees. Programs could consist of classroom and on-the-road modules. The best fleet employee training also focuses on defensive driving techniques and behavior modification. You can monitor driver habits to identify potentially unsafe driving habits that require additional training.
Establishing Written Policies and Procedures for Commercial Fleets
Best safety practices for commercial fleets include clear communication of and training on your company's fleet safety program. All employees should have access to a written safety program for trucking company, delivery service, or any industry which involves fleet vehicles. Having a fleet safety compliance manual is an effective way of communicating what you expect of employees who drive business vehicles. Many fleet safety programs are DOT regulated or comply with OSHA fleet safety regulations. These typically include all driver expectations, procedures for handling and reporting vehicle breakdowns or accidents, consequences of driver failures/damages, and so on.
Rules and Tips for Fleet Driver Safety
Make sure to continually check on fleet driver conduct, ensuring that they are following basic vehicle operation principles. Commercial fleet employees should be expected to follow these to demonstrate responsibility, protect themselves and other drivers on the road, and reduce the likelihood of accidents.
Always use seat belts
Drive defensively and never aggressively
Respect speed limits and traffic laws
Always lock the vehicle and apply the parking brake
Take breaks every four hours during long trips and never drive more than 10 hours in a 24-hour period
Avoid driving past midnight, in inclement weather (when possible), and when tired
Do not drive distracted, never text while driving, avoid phone calls, only using hands-free devices for necessary phone calls
Maintain the cleanliness of the vehicle
Fleet Vehicle Maintenance
Having an established plan for fleet vehicle inspection, maintenance, and repair is another good way to increase fleet driver safety. Having vehicles that are well-cared for and current on all maintenance reduces the potential for malfunctions or breakdowns that may result in accidents.
Commercial Auto Safety Guidelines
You won't be able to prevent every accident or stop every vehicle malfunction. What you CAN do to protect auto fleet drivers and reduce commercial fleet accidents is follow these helpful tips for fleet safety. For everything else, there's comprehensive commercial fleet insurance! Call the Business Insurance Center today, where we insure commercial fleets across the United States. We're committed to providing fleet insurance coverage that doesn't leave any gaps. Insure where it matters most: your employees and the financial future of your business!