Flooring Contractor Insurance Plans
Being a flooring contractor comes with a lot of responsibility. Not only do you have to make sure the job is done well and will last for years to come but you also have to worry about the safety of your employees and customers. Your industry comes with its own set of unique risks and concerns. That's why having insurance is so important. Flooring contractors need insurance to protect your business in case of damage to a client's property; to cover the cost of damages if something you install is faulty; to protect yourself from liability if one of your employees is injured on the job or if a customer is injured as a result of your work; and to cover the cost of replacements if any of your tools or equipment are damaged or stolen. While it may seem like an unnecessary expense, the truth is that one accident could cost you thousands of dollars, and that's money you may not have readily available.
What Insurance Do Flooring Installers Need?
You might be thinking, "I'm a one-person operation, do I really need insurance?" Yes, you do. Even if you work alone, you can be held liable for damages that occur during a job. Large scale flooring installation companies and single workers alike need insurance coverage to protect your livelihood.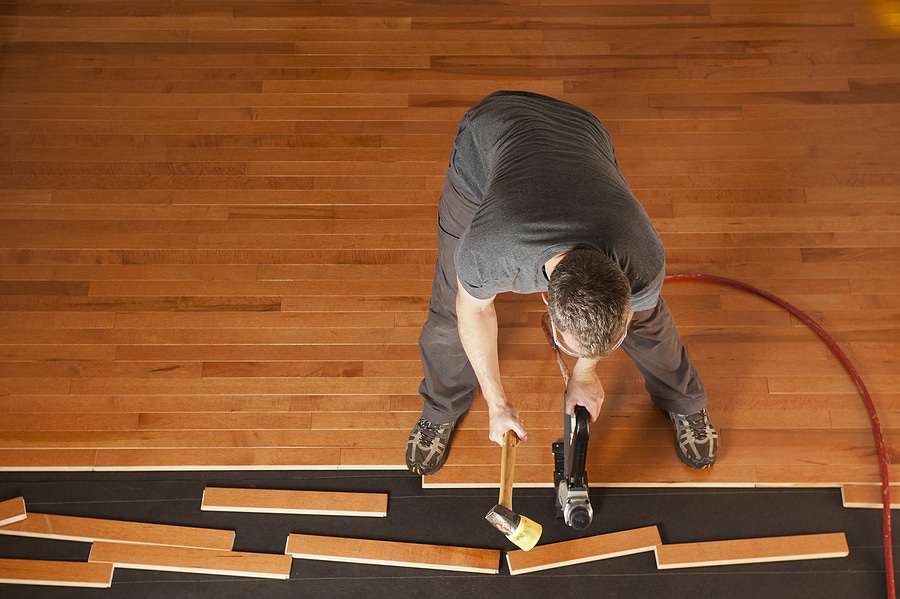 General liability insurance – This type of insurance protects your business from third-party claims of bodily injury or property damage. General liability insurance can cover medical expenses, legal defense costs, and settlements or judgments if you are found liable. 

Product liability insurance – This type of insurance protects your business from claims of injuries or damage caused by the products you sell or install. 

Workers' compensation insurance – If you have any employees, this type of insurance is required by law in most states. Workers' compensation covers medical expenses and lost wages for employees who are injured on the job. 

Business property insurance – This type of insurance protects your physical business premises and equipment from damage or theft. Business property insurance can also cover loss of income if your business is forced to close temporarily due to damages. 

Commercial vehicle insurance – If you use any vehicles for business purposes, they must be properly insured and your personal auto policy does not cover this. Vehicle insurance can cover repairs or replacement costs if your vehicle is damaged in an accident, as well as any third-party bodily injury or property damage claims. 

Professional liability insurance – Also known as errors and omissions insurance, this type of policy protects your business from claims of negligence, errors, or omissions in your professional services.  
You may hear that this type of insurance is rolled into handyman insurance, general contractor insurance, small business insurance, or general contractor liability insurance. You'll want to check with your insurer to be certain that you're getting the right insurance products to cover every aspect that you may encounter in your daily operations. 
Best Company for Flooring Installation Contractor Insurance
Now that you know why insurance for flooring installers is so important, you may be wondering how to get started with finding the right policy for your business. The best place to start is by shopping around and comparing rates from different insurers. You should also make sure that the policy you're considering covers all your risks as well as any state insurance requirements. When it comes to affordable flooring contractor insurance, Business Insurance Center can save you money by bundling different types of coverage together or insuring multiple businesses under one policy. We specialize in customized business insurance plans and can create the perfect policy for your specific needs. Most importantly, we review your plan regularly and suggest changes as necessary to keep up with the current needs of your business. 
Protecting your livelihood shouldn't have to be a worry on top of everything else. As a professional flooring installer, make sure you have the right insurance in place to protect yourself, your employees, and your business from risk with a comprehensive flooring contractor policy. Make sure you're covered by contacting the Business Insurance Center today for a free insurance quote!