Nail Salon Insurance
As a nail salon owner, you have a lot on your plate. From keeping your clients happy to managing your staff, there's a lot to think about. One thing that shouldn't have to take up any of your time or energy is worrying about whether or not your salon is properly insured. That's where the Business Insurance Center comes in. Learn more about the nail salon insurance protection we provide that you need to keep your business running smoothly.
Why Do Nail Salons Need Insurance?
Every business, no matter the industry, needs insurance. It's a vital part of protecting your company and your employees. But when it comes to nail salons, many owners may not know what type of insurance they need – or even that they need insurance at all.
You want to provide your clients with the best possible experience but what happens if something goes wrong? Enter the best insurance for nail salons. There are many situations that may arise in nail salons that leave your business exposed to lawsuits or profit loss, some of the most common of which are:
Slips and falls
Infection
Allergic reaction
Rental equipment or space damage
Incorrect treatment or chemical mixtures
Stolen equipment
Unsanitary instruments
Identity or credit card theft (cyber crime in nail salons)
Employee injuries or disability
There are a number of benefits to getting nail salon insurance, including financial protection in the event of a lawsuit, damage to your property, or theft. Proper nail salon insurance policies may even give you peace of mind knowing that you're covered for all of these situations.
Nail Salon Insurance Requirements
There are key types of insurance protection every nail salon should have in place. There are many different types of nail salon insurance plans available, and finding the right one can be a challenge. But the rewards of having the right coverage are well worth the effort.
That probably leaves you asking what insurance do I need for my nail salon? It's always a good idea to speak to your insurance agent to determine the specifics of what your business may require. Some of the most important insurance policies for nail salons include: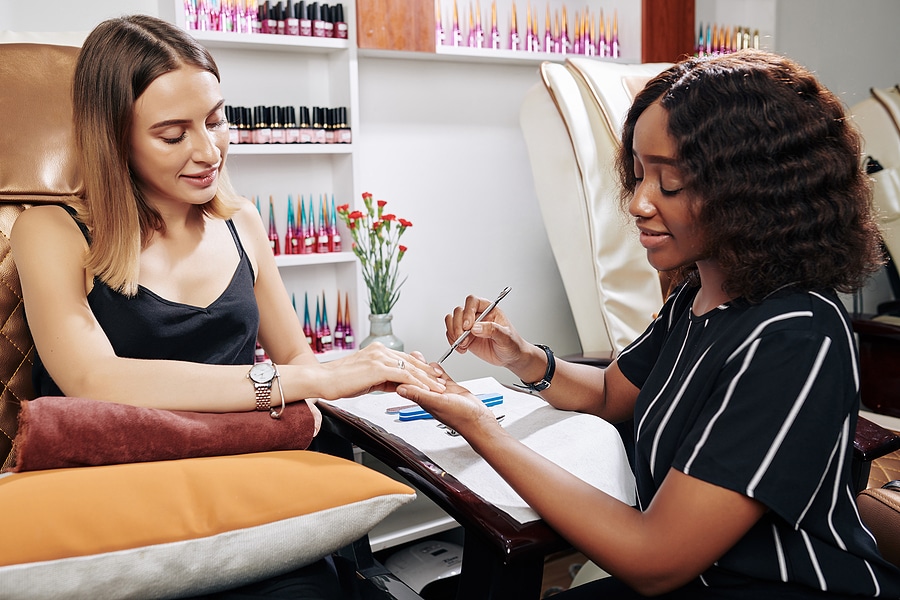 General Liability Insurance: General liability for nail salons covers risks such as injury and associated medical payments, property damage, personal and advertising injury, legal defense, and more.
Nail Salon Commercial Property Insurance: This insurance policy provides coverage for the building and items inside. This is necessary for both rented spaces and for nail salons operated out of the home (which is not covered by homeowner's insurance).
Workers' Compensation Insurance for Nail Salons: This is to protect your employees and business in the case of a work-related injury or illness. It typically covers medical treatment and lost wages.
Business Interruption Insurance for Nail Businesses: In light of the world pandemic, many business owners are now investing in this business insurance policy to protect against times of closure due to unforeseen circumstances.
You may also choose to invest in the following important nail salon insurance coverages:
Product Liability
Rental Damage Coverage
Stolen Equipment Coverage
Identity Protection Plan or Cyber Crime Insurance
Best Insurance Company for Nail Salons
Business Insurance Center understands how important it is to have the proper insurance for your nail salon business. Not only does it protect your company and employees, but it also gives your customers peace of mind knowing that they're in good hands.
You may still have questions such as, does nail salon insurance cover my equipment, do you need a license to get nail tech insurance, can you move salons and keep your nail insurance, what types of nail services are covered by nail salon insurance, or what limits are included with a nail salon insurance policy?
These are all incredibly important questions and we encourage you to contact us at Business Insurance Center today to discover the answers! Our knowledgeable business insurance agents are standing by, ready to help you select the best insurance plan for a nail salon business. Call us today!